The web changes really fast. Incredibly fast! When I had an idea for this article, I never thought that I will come to such conclusions about the current trends in web building. I started doing my research on the latest web designs to find out what is now "hot", and after checking some number of web layouts… everything started to form into a bigger picture.
As I see it, the landscape of web design is now undergoing a serious upgrade. The term of a "trend" I will switch or extend to an "area". So let me go through my insights about the "hottest areas" of the web development and design that are accelerating in current 2019. These areas are shaping directions for the future web.
On one hand, we have industry-pushers like CSS grid, flexbox and Progressive Web Apps, which together with Scalable Vector Graphics, integrated media and Variable Fonts begin a new era of free-form web development. Websites are finally released from the slavish adjustments to endless browser types, screen resolutions, devices or operating systems.
On the other hand, exceptional creativity that is expressed in the latest web layout seems to be a succession of the collaborative web 2.0 and… to be only at "experimental" state.
For over a decade, we have seen growing open-source, social media, clouds, bots, APIs or mobile apps. We can use so many tools that are made for creating, collaborating, sharing. All of the above, together with increasing connection speed and hardware capacity, cause the Users of the web to become its Creators.
The accessibility of online educational resources has enabled people without a "formal" education in web development to explore and change the web landscape. Their fresh viewpoint gives a kick for new and diverse ideas. These people are breaking the rules of design, introducing an innovative approach to the website's architecture, content, navigation and visuals.
"Everyone is a designer"
"Everyone is a designer" - that saying repeats every now and then in the creative industry's media channels or discussion forums. It is bringing up the topic of who is the designer?
Is the designer only the one that had received formal education or works as a professional?
I suppose that "everyone is a designer" applies to the current mindset of modern society: being given the tools, we unleash creativity that is our kind's core nature. We, humans are all capable of becoming designers.
One of the Design Thinking assumptions is the request: "More ideas, more ideas!". Because the more ideas we produce, the bigger the chance for a genius one. Quantity turns into quality. And the more brains in the storm, the more ideas are resulting out of the "collaborative mind".
Thinking about these I have decided not just to pick a few "trends" (that I reckon as progressive and ground-breaking) and put together as my article's "hot" heroes. I rather group those trends into bigger collections.
I suggest that we should treat the term "web design" as a much larger container. Without relation to the visual side only. We can design everything. Or can't we?
Form Follows Function
"FFF" was the Bauhaus principle, stating that shape or form of an object should primarily relate to its intended function or purpose.
In other words: the content should come first, then the design. Or both could be developed simultaneously as the designing process is to cover the visual qualities of a subject, too.
This function-focus approach (and the user-focus as the user is prior to function) is now back and taking over - in the web developing industry and beyond. Builders of the websites and applications are aware that aesthetics trigger actions of the site's visitor better when they are created for a specific purpose.
User's Experience and Engagement are in the centre of our attention, for they are behind the successful Customer Journey towards certain activity - a conversion.
How does this attention manifest? How is the web designed in 2019? In which directions does it currently go? Let's review!
1.Progressive Web Apps and other web accelerators
Supported by the biggest players of the web industry, the Progressive Web Application standard is making things simpler and more effective. Not only with the design aspect. PWAs are capable of being installed on the device which means that some of the content is accessible in the offline mode (in accordance to the offline-first approach). And that greatly improves the loading time! The media aren't downloaded at every occasion we open the website (but are syncing in the background so will stay up to date).
Using modern front-end supporters: CSS grid and Service Workers, Progressive Web Apps are fully responsive, they load instantly and perform smoothly even on the slower networks. Currently PWAs are in the early stage, waiting for the industry's further advancements in work with related frameworks and tools (like ReactJS, NodeJS) that enhance the PWA concept.
Scalable Vector Graphics and Variable Fonts
The power of vectors was for a long time underestimated. Between all web designs, it is still the raster graphics (JPGs, PNGs or GIFs) that are a leading source for visual content. Photographs, arty illustrations, advertisements, backgrounds or icons - those are present all over the web, but there is one primary disadvantage. The RGB colour-palette rasters are once-defined, limited to two-dimension image files. Moreover, they're quite passive - not many actions can be performed on them. And finally, they weigh - it much affects the loading time of the site that uses them.
For the rescue comes SVG format, that is scalable, lightweight and motion-ready, so the designs would not only stay sharp on any size of the screen, but designed with care, they will not make the site to go slow. Being easily manipulated with advanced JavaScript options, we can use SVG to build amazing gradients, three-dimensional objects, define endless colour shades and finally - we can animate the elements of the UI. Being a W3C standard, they are future-proof, what basically means for all the web designers that keep on hold to PSD format: switch to the new way of work with visuals now, for they are here to stay.
Scalable Vector Graphics introduce absolute responsiveness and animated, live-like web design.
Besides SVGs there is one more technology advancement of recent years that is helping the web content to free from unstable connections and speed-related issues: the Variable Fonts format. Until its release, all of the font files that are used on the page needed to be downloaded each time we open the URL. I think you've guessed that: that way causes them to occupy the bandwidth while the page is loading. It was keeping the creation tight, too - as the designer could only use a few fonts within the project.
But now we can build the web with the use of Variable Fonts. How do they work? Instead of a separate file for every font style, we get a single Type and its variables, defined with axes. That single file isn't affecting the speed much with its size. And it can have dozens of axes within, such as Weight, Width, Slant, Optical Size, Italics, Grade and more. With those extended styling possibilities (and the industry push for use of Variable Fonts), creative professionals are already exploring different axes to create great, lightweight designs.
2. CSS3 Animations and video as integrated web design elements
As we know, video can capture our attention like no other form of media. It helps to improve the User Experience and engagement on our page. Video can be used in various ways: as an promotional spot, as an explanation-movie for product's features, as a guide or tutorial associated with the product or as a moving background.
Video boosts website SEO, traffic and growth
YouTube's audience only generates over 5 million views of video content per day. As the Alphabet company is looking for YouTube as it's next growth-driver, recently Google reorganised it's search results page, so it shows mixed links to content-types, with video content results located above other links. That move of the Californian tech giant is aimed to encourage even more video production, for it being an easy to digest, engaging type of content. The content that can be very usable, when it comes to business-related projects.
According to the YouTube stats, the site's users upload 300 hours of the content per minute.
The viewing session's average duration increases daily, being at the moment somewhere around 40 minutes. Today (5th of April 2019), more than 150 billions of hours of video has been watched by the people from 88 countries. And that's only YouTube numbers!
I hope you agree that the classic, static content will not win us a prize. Producing and processing video has become available for practically everyone. The researches and statistics (like the above graph from HubSpot) give us a clear message: people tend to "watch" over "read". That's it.
New CSS tricks
As web developers, for many years we have struggled with the video or animation size. Those usually large files needed to be downloaded along with the whole page, what was dramatically affecting User Experience: the sites were slowing down, cluttering, even disconnecting on the slower networks. I guess we have all been through some issues with the video, such as embedded players, content quality, high mobile bounce rate.
But now we are into the era of Progressive Web Apps and at the beginning of The State Of Houdini. We can extend the website's CSS and use the browser's rendering engine for styling and layout process. We can integrate the bits of our layout that can be precisely described, and extract them in the way that saves a lot of the loading. Video file is not anymore a hiccup-maker for the site and can we can take a full advantage of it's possibilities.
Animations, animated illustrations and animations on scroll
Besides video, interfaces of today's web are presenting a lot of dynamic and interactive content and it starts to be more and more common. These visuals make the web live-like, more organic with all of those much-engaging fluid moves, rotating objects, animated logos, dynamic illustrations, smooth animations and interactive page-design elements that are connected with event on scroll.
The User Experience when visiting the web filled with motion has greatly improved. Isn't it satisfying to hover with your mouse or finger to make the "surface" move? Or to zoom in and out of presented interiors, just like we were there? The moving and reacting web interface is definitely here to stay. With the new technological possibilities, it does not only display in an undisturbed way but brings real engagement with its smooth and friendly interactivity.
3. Stirring visuals to capture user's attention

The level of "what the web can do" has moved up, but as I mentioned in the beginning, people are more advanced in creation, too. The reign of the PhotoShop is weakening, so the tools ever-made for designing (like Illustrator or InDesign) are becoming today's preferables, together with 3-dimensional view builders. Interactive content, that is currently so much wanted, not necessarily base on video movies. Those objects that move and get our attention with their vibrant colours, quality and interactive abilities, are made of vectors, as the SVG format is being popularised and the industry advances in using it.
savetheair.de

chriscarruthers.co.uk/anthropomorph

Blue

unproductivesocialyear.grandbain.io

krai.co.ua
The magic of CSSgrid & Flexbox
A pair of complimentary web designing tools: CSSgrid and Flexbox - when used together, they multiply the possibilities of current browsers. In simple words, they allow placing the layout's elements on a kind of a 3-dimensional net, all wrapped up in JavaScript so the browser can execute a certain behaviour for each one. Sounds promising to you? I bet it does.
When it comes to web designs that are made recently with the use of the above tools, we see that they are far more sophisticated. And I quite sense the challenge that everybody has in mind. The motivation to make something unique was always a boost for creativity, but now the exceptional look and feel drives web designers to the point of breaking innovation. Innovation that is based on what we can do with the layout and what the users will notice, remember and come back for.
Is minimalism conservative?
After I discovered MailChimp's new site design, I've thought of the confidence that the brand has to possess in order to make a rebranding like this. But distinctive illustrations, totally custom graphic schemas, glitch, kitsch and other (sometimes bizarre) styles are now utterly desired. The more unique, the better.
I don't even think I could find a single leading web-fashion that most designers follow these days. We get print-inspired, broken layouts we've seen on vintage posters. We get eclectic web collages or beautiful data visualisations, raw look of "undesigned", surrealism and retro-sentimental stylings. Abstract shapes and vibrant gradients. Bold colours, black'n'white, brutalism and minimalism are here, too. Ah, yes. And pastels, as the 2019's Pantone's Colour Of The Year is just like that.
You surely know those minimalistic pages with plenty of white space. Nothing wrong with them, isn't it? They are (in many cases) properly designed, with clever copy, clear typography and carefully chosen images. But... they seem for me as moderate, or even modest now - when I compare them to the avant-garde style that dazzles us these days with stunning, smarty layouts.
4. Typography madness
I didn't mention that previously, but between all these aesthetically impressing web styles there is some that contain typography and text only. This kind of websites we have seen many times before, as they are continuing the tradition of 2D layouts (i.e. event posters) that focused on type as the subject of expression.
Typefaces are now much easier to create so making a custom font for a project is a quite a common practice. The serifs are widely used on screens, breaking from the traditional approach that it is the non-serif fonts that look and work better in web design. The typography styles that are quite popular are also heavy bolds, outlined letters, vintage and retro styling, along with recent most-downloaded on Shutterstock... icing letters.
Typo-sites and other creative use of the types are enabled with the TypeScript. It allows the type to behave in a more attractive way, as it is extending the commands of JavaScript.
5. Smart websites and the trend for inclusivity
According to the recent Forrester Research study, competent UI design could increase the website's conversions by up to 200%. But design driven by User Experience can increase conversion rates event up to 400%!
UX design for the web is focused on the engagement, as it leads to conversions - so we have to tighten the relationship with the sites visitors.
The optimisation of a website is a process that never ends. We embrace the whole page with precise analytics, that help us to measure activity and better understand our audience. We are performing A/B testing and install various tracking tools to monitor traffic sources and users on-page behaviour. We get insights of the performance from the heatmaps and set quick-feedback forms for the visitors. Gradually, in increasing number of scenarios we begin to use automation, as the data volume and actions to be performed grow bigger every year.
"Web dwellers" - the era of bots
Bots are by now widely used. They quickly shifted from the "emerging" to "blooming" technology. They are not only servicing the online communications with clients (as chatbots), but (in some industries, like financials and banking) are also being programmed to fill in long forms, perform scheduled actions on files and, in many other ways, to take over human labour on data. They can serve as research bots, be used for lead generation and brand awareness - which helps to save businesses money. Together with machine learning, bots are the glimpse of the future right at our door. And the demand for bots is growing.
When visiting online services, we can already meet chatbots (or virtual assistants) that are creatively customised and sometimes even have an animated "person". Those entities could become a kind of brand-mascots. Bots are able to recognise us, remember the topic of the previous conversion. They will very soon recognise our voice. Even the people that are deaf or that can't see - would be able to get help from smart bot-assistants, when they go online.
Would bots be a good solution for any business? Definitely "yes!".
Even for the smaller companies, they are machine-learning-solutions available. When automation of tasks is taken with the right approach, this direction brings almost instant growth - bots can perform 24/7, they don't make errors, don't require any special treatment. And let us be honest - inside every business these days, there is something that can be automated.
Ambient web design
Mojave, Apple's OS comes with a background that is changing depending of the time of the day. This kind of "adjustable" design is spreading, being a forefront of the ambient web design, where UI-variables would adjust to weather, current month or the surrounding sounds. In the upcoming years, that type of designs would use advanced AI and adjust to the people's moods and personal preferences. Smart websites, as I see it, would be like bots themselves - talking to us, knowing us and recognising, and in many ways adjusting to us.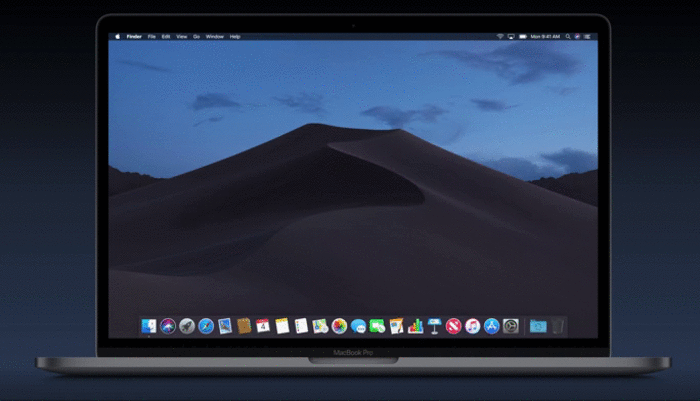 In web design we will soon be able to serve content to all users without exceptions, using the features of diverse channels accordingly, for the web inclusivity.
It might sound like a science-fiction movie plot, but looking at the progress in the web development industry - we might expect pretty much everything to happen in the near future. The inclusive web is still an approach that some of the web designers don't know, but in years to come, it is definitely worth to look out for- as it brings User Experience to the next level.
One more implication of the latest trend from my list is the possibility of releasing the content completely, making it device-independent after ranging from the way content is presented to the content itself.
Tech-influencers predict that the interface-focused web is soon to be gone and replaced by AI-driven solutions like voice assistants, virtual reality and digital sensors. What do you think of those scenarios? Let me know in the comments!