Celebrating Chop-Chop's 2021 rebranding
We've been working on Chop-Chop's new visual identification for several months but the early conceptual work had begun as early as 2019. On August 5th, 2021, we finished a major stage of this process and launched our new website. Along with the brand new logo, this marks the biggest revolution since our first website was published back in 2010 - the year Chop-Chop was born. Let's have a look at the process and what we had to do to get there. 
Overview
Chop-Chop is a web development company that started in 2010. From the very beginning, our focus was quality frontend and WordPress development. As our team evolved and gained experience, we started making complex Magento e-commerce websites and ReactJS-based web apps.
In 2021, we were able to add Shopify to our tech stack.
Chop-Chop is a part of a larger group with Data Space (IT infrastructure) and Magently (Magento developers) as members of our family. 
The logo
Our old logo was one of the most recognizable things about Chop-Chop. The hexagon with the company name and the two scissors was often quoted by our employees and clients as the first thing that came to their minds when thinking about the brand.
For this reason, it wasn't an easy decision to change it. In fact, we'd been belating it for years just because everyone identified with it so much. However, the logo, as memorable as it was, wasn't without issues. Consisting of small, detailed elements, it was not exactly scalable. It was causing problems whenever we wanted to use it as a thumbnail on social media, as a favicon, and as other various uses. From the earliest stages of the rebranding process, we wanted the new logo to be simple but bold. 
Our new logo is just that. There are so many things we love about it. It perfectly conveys our energy and shows we're open to creative collaboration with our clients and partners. 
The new design
To create the new visuals, we hired Michał Jakobsze - a graphic designer we'd been working with in the past on a few projects. From the start, we wanted the new identity to be bold, simplistic, and to carry on the legacy of our original identity. We've decided to simplify the color palette while keeping the yellow color that has been our trademark since day one. We fine-tuned the hue to make it look more energetic and youthful.

We wanted illustrations to be an important aspect of the design. Again, we wanted them to be simple and bold and to represent Chop-Chop's focus and energy. Eventually, we went with cartoon-style graphics, heavily utilizing typography and shapes. 
We didn't want to overload the website with heavy parallax effects or billions of sliders. Sure, there are a few transition effects and animations here and there but they are not overwhelming and are coherent with the rest of the design. As it is, we've worked out something that is smooth, elegant, and brings the layout to life, while maintaining readability and accessibility.
Another upside of having a simple logo - you can find many creative ways to animate it.
Technology
Surprisingly, it wasn't initially obvious to us what tech stack to use for the new website. We agreed on one thing - we needed to rebuild it from scratch to make it shine both on the front and on the back end. Eventually, we decided to use the tool we know best - WordPress with Gutenberg editor, supported by ACF for more page-building capabilities.
The website is modular and consists of reusable blocks and custom fields that are highly customizable and easy to use. 
Every section below uses the same module. The custom fields allow changing colors, width and height, position, and much more.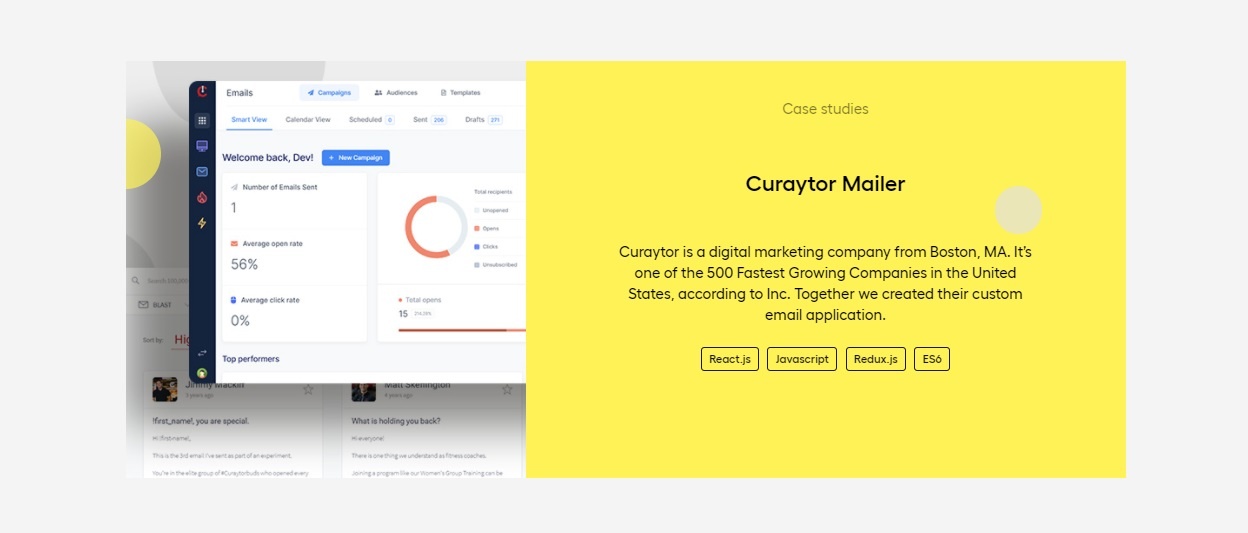 We used best practices to achieve the best performance results possible. We managed to get much better lighthouse scores than our previous websites and we're planning to improve them even further. You can read our article series on how we did that here. 
Photos
There's no Chop-Chop without people! Because of the pandemic, there have been fewer opportunities to meet in person than ever. Luckily, we managed to organize a photoshoot and capture the spirit of our office. We're not an anonymous company where you order a website and it's ejected back at you from a nameless support team. Our clients get to work with real people who are invested in their projects and care about their businesses. We're proud of it and we keep saying it whenever we get a chance!
The new, refreshed brand marks an important point in our company history. We want to provide more complex services and invest in our employees' growth for the years to come. We can't wait to tackle the challenges ahead together!